The Importance of Being Skipper
With the recent birth of her calf, Skipper's 2014 rescue has met all the criteria of a successful intervention
A small dolphin breaks the surface and comes into view followed immediately by its mother.
Then they descend and, as if on cue, a second mother and calf rise into view, one after the other.
There is a pause, a break in the rhythm.
Finally, a third mother emerges with her new calf and they fall into line like a couple tardy musicians – the tuba players perhaps – scampering to join the marching band on the field.
It is a heartwarming spectacle but that delay haunts me a bit. The third mother is a dolphin we had named Skipper and I am reminded that seven years ago she was facing certain death.
The thing that tipped the balance back toward life was timely and extraordinary exertions by a team of volunteers. If not for their efforts, she would not have survived long enough to mark her first year let alone usher a new life into the world.
That pause would not have been followed by the delight of seeing Skipper alongside her first calf. Instead he surface of the water would have remained undisturbed, silently marking an absence. I wonder if the two other mothers –Payton and JingJing – would have felt it, that absence in the place their former contemporary would have been.
You see seven years ago, Skipper approaching one year old and a calf herself at the time, contrived to get a metal fishing leader wrapped around her tail stock where it met her flukes, those essential fins that provide the dolphin with its means of propulsion. The entanglement was life threatening.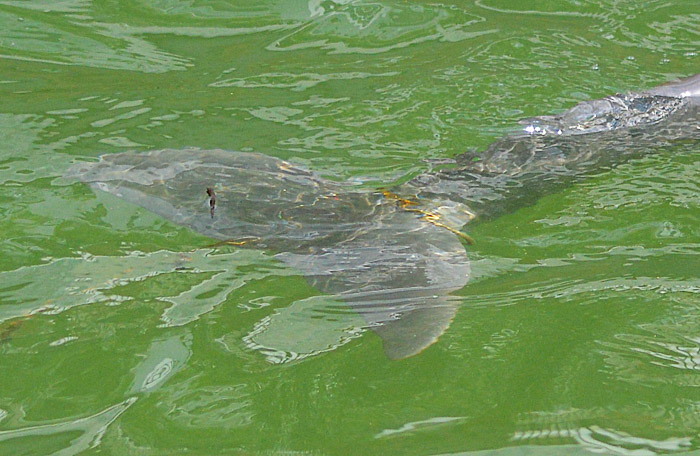 A metal fishing leader encircles Skipper's tail
When I first saw the line, I had a sense of what would come next because, by some coincidence, her older brother Seymour found himself in an almost identical predicament. By the time human observers noticed, the line had become deeply embedded in his tail stock, a prodigious amount of scar tissue had built up and Seymour was visibly uncomfortable. He had taken to slapping his flukes upon the water in distress.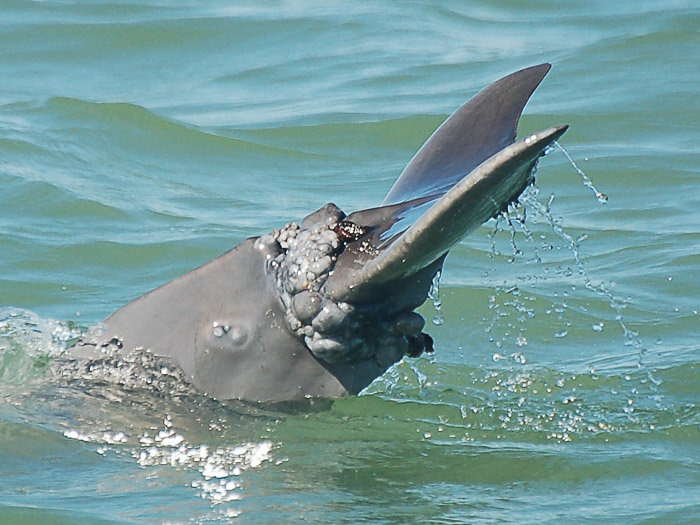 Scar tissue accumulates as the entangled line becomes embedded in Seymour's tail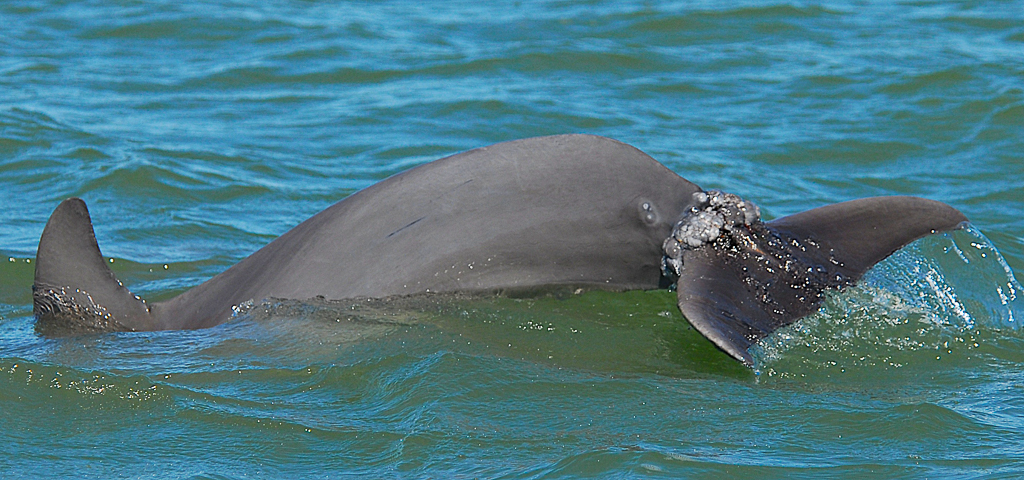 Agitated and uncomfortable, Seymour slaps his flukes on the water
Fortunately for Seymour and Skipper there exists a collective of individuals and organizations with the experience, skills and resources to intervene and (sometimes) tip the balance between life and death when a dolphin finds itself in this sort of predicament.
I think of these people and organizations as superheroes…
A dolphin calf becomes entangled in fishing gear, its life imperiled, its mother desperate.
Helpless to do anything, horrified onlookers notify the local authorities. With a powerful light otherwise reserved for movie premiers, they project the image of a leaping dolphin on the night sky.
Seemingly out of nowhere a team of skilled volunteers arrives and sets the dolphin to rights (cue swelling triumphant music).
The relieved citizenry applauds as the young calf, out of danger now, swims in a circle and leaps playfully, celebrating her relief from the confinement of the entanglement.
All turn to identify and thank the heroic volunteers, but they are gone. Only the wake of their departing boats is visible in the distance.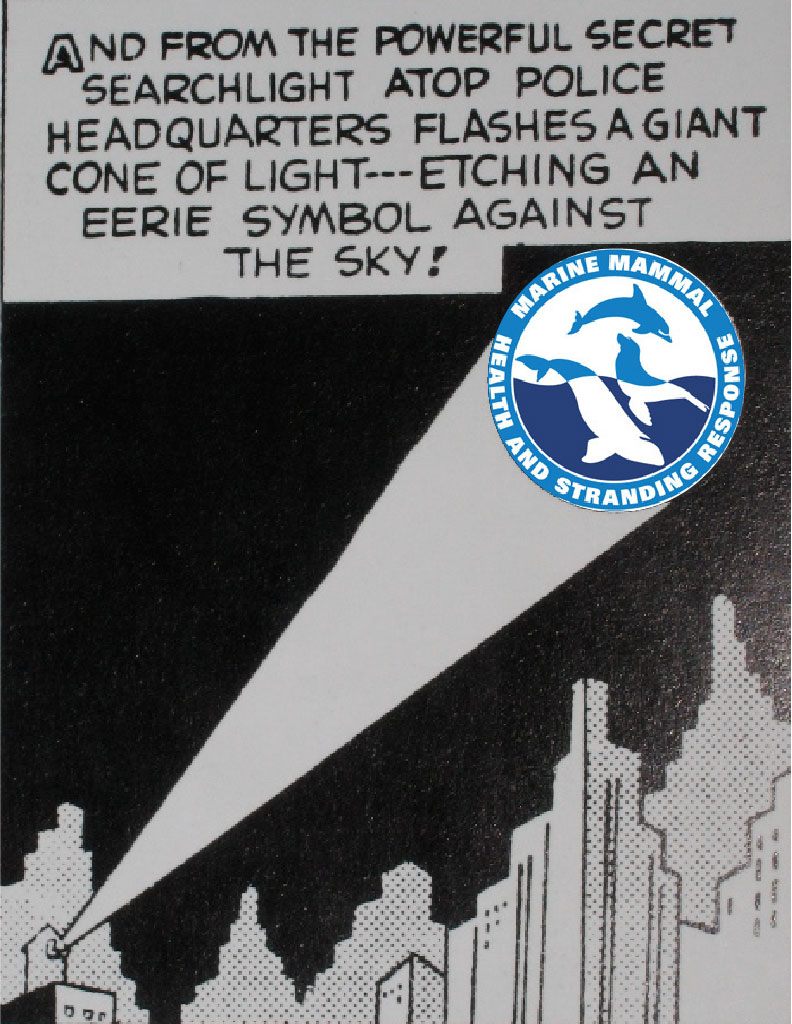 It doesn't play out exactly like that, but a few of the particulars capture the essence of a truth.
The response does begin with a concerned citizen noticing the animal's distress and reporting it to the authorities.
Marine Biologist Denise Boyd with FWCC is the Stranding Coordinator in the Naples/Marco Island area that Skipper calls home.
The first step to initiate a coordinated response to a distressed dolphin is to notify her office.
1-800-404-FWCC (3922)
At the National level NOAA Fisheries coordinates emergency responses to injured dolphins (and other animals) under The Marine Mammal Health and Stranding Response Program. Blair Mase-Guthrie is the Southeast Region Marine Mammal Stranding Coordinator. NOAA's Hotline is
(877) WHALE-HELP (877-942-5343)
Blair and Denise don't exactly beam a signal into the night sky. They do get to work mobilizing the area's stranding network and that will result in volunteers and equipment from throughout the state of Florida amassing in our area to find and treat the dolphin. This network is composed of a number of organizations that possess the skills, equipment and training to mount a rescue that is always logistically difficult and costly and sometimes dangerous.
Mote Marine laboratory and Aquarium in Sarasota, Clearwater Marine Aquarium, The Harbor Branch Oceanographic institute, The University of Florida, Sea World and others provide boats, nets, trained volunteers, veterinarians and marine mammal scientists to the effort.
And here is where we depart from the superhero narrative. Because, rather than being miraculously endowed with powers to save dolphins, these organizations must independently raise the funds required to maintain the capacity to mount a rescue.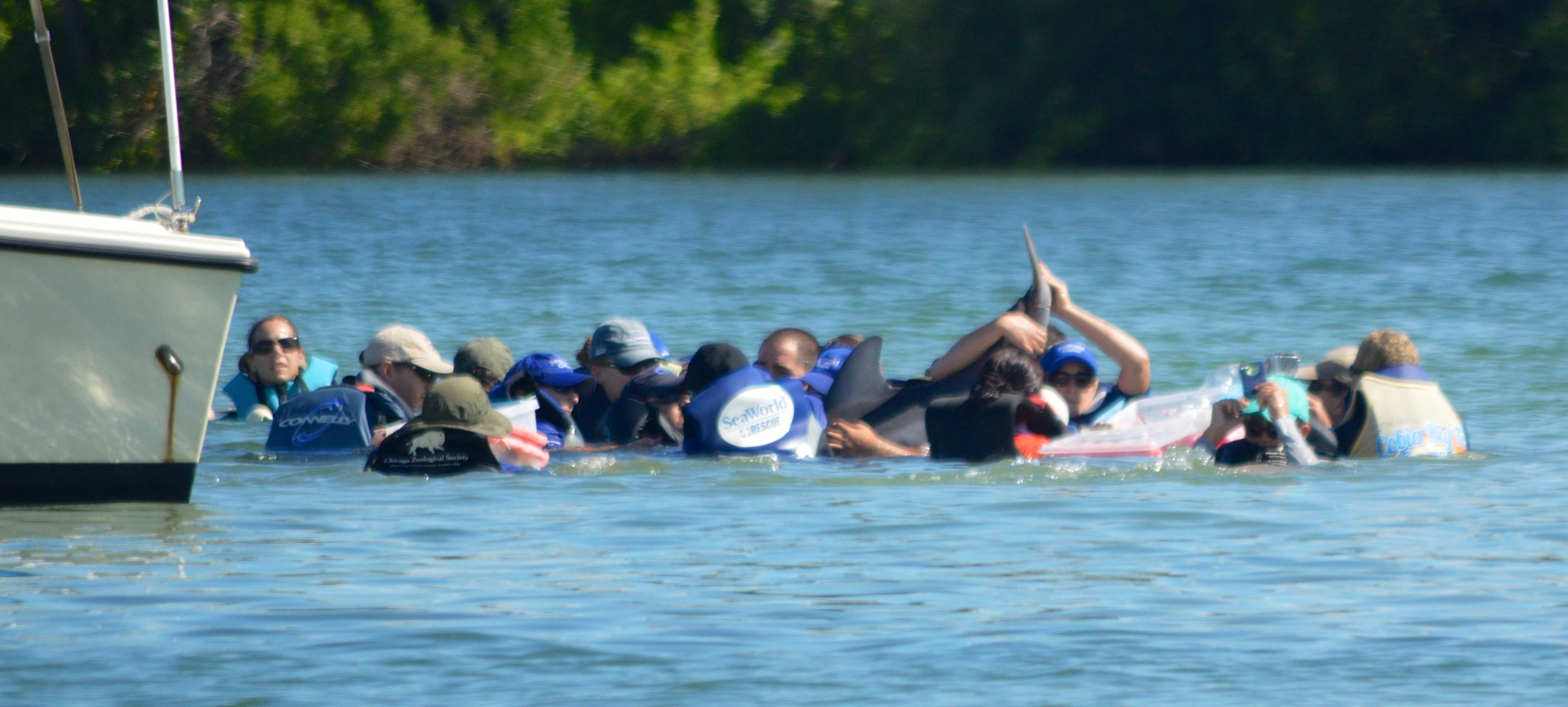 The stranding network works to free Skipper of her entanglement
It was the morning of September 4, 2014 when The Stranding Network converged on the waters around Marco Island to save young Skipper's life. Before the day was out, she had been found and the metal fishing leader that had begun embedding in her tail stock had been removed. Skipper was back to the routines of her life at her mother' side free from the shadow of death. Scientists from Mote Marine affixed a yellow tag to Skipper's dorsal fin.
The importance of being Skipper
Given the costs involved in this sort of intervention, scientists and resource managers are naturally interested in evaluating their long-term significance. Katie McHugh, a staff scientist employed by the Chicago Zoological Society and based at Mote Marine Laboratory in Sarasota addressed this question in a recent paper "Staying Alive: Long-Term Success of Bottlenose Dolphin Interventions in Southwest Florida". I contributed post intervention sighting data of Skipper and Seymour to the paper on behalf of The Dolphin Study.
In her paper Dr. McHugh identified four criteria that would be indicative of a successful intervention:
Survival: How long did the animal live post intervention?
Ranging Patterns: Did the dolphin remain in the community range where they were rescued?
Abnormal behaviors: Was there an absence of behaviors like, "patrolling, scavenging ot depredating from active fishing gear"?
Reproduction: Did adult females or females that became sexually mature post intervention produce calves?
The importance of being Skipper is that, with the birth of her recent calf, the intervention to remove the fishing line from around her fluke has hit all four hallmarks of success!
Not only was Skipper's life spared but she has lived long enough to reproduce and hence contribute to the viability of the local community.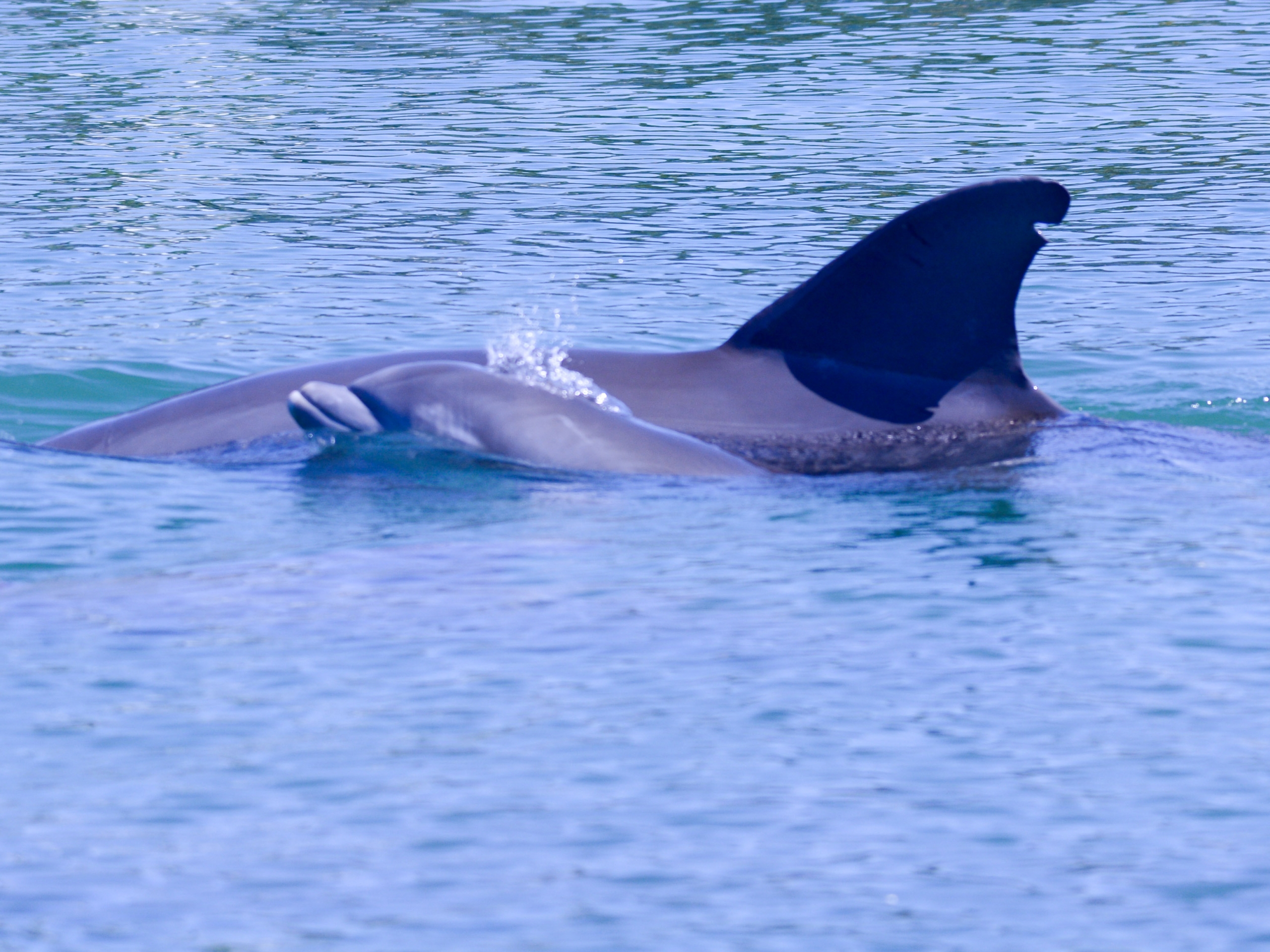 October 18, 2021: Skipper's new calf 'Cubbie' surfaces near mom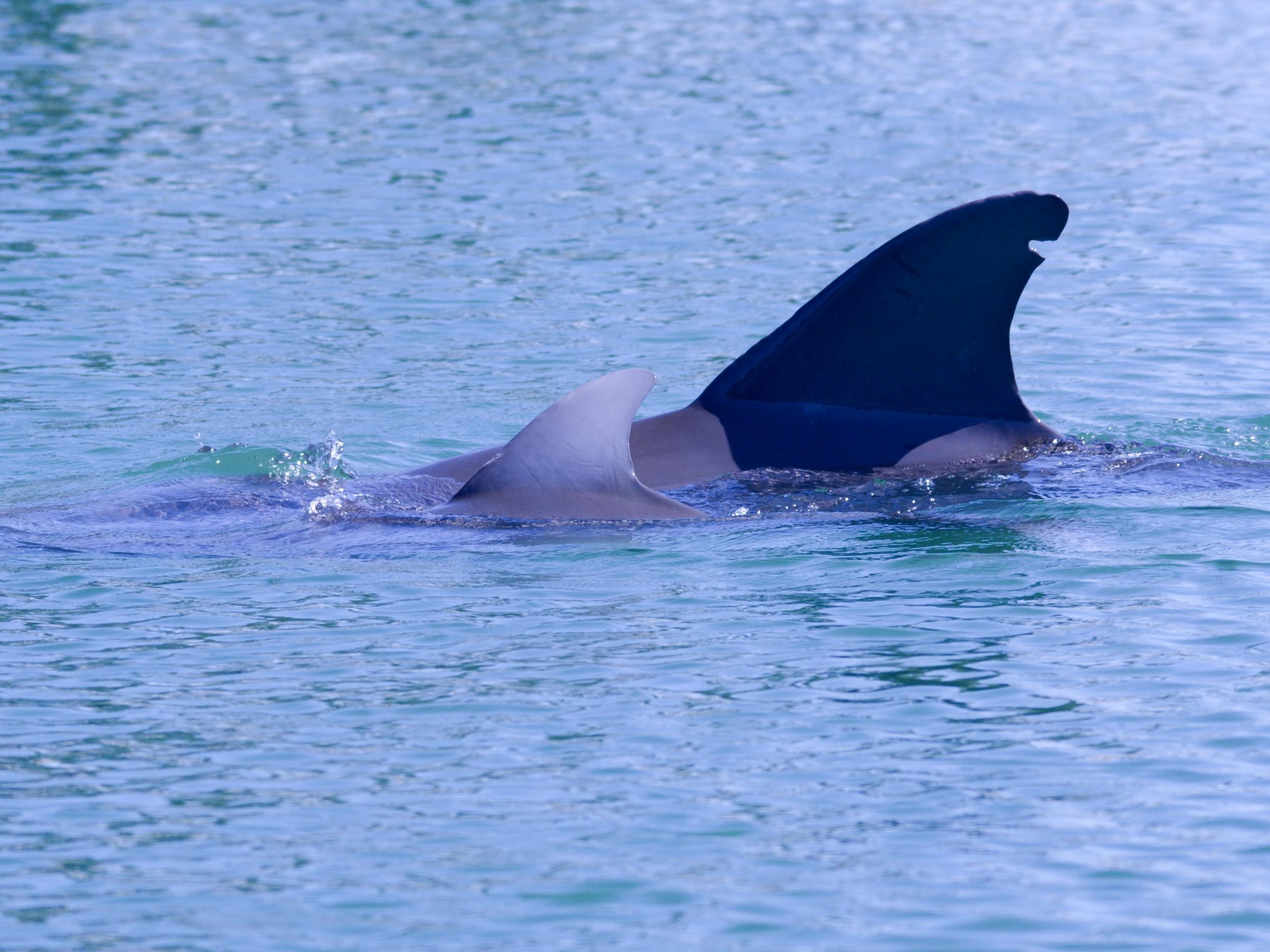 The efforts of the local stranding network have turned out to be a gift that keeps giving.
The second way in which the reality of the interventions to save the lives of dolphins like Seymour and Skipper differ from the dolphin superheroes fantasy I described is in the role the citizenry play. We are not simply grateful bystanders. The organizations that volunteer their time and resources to local stranding network need our financial support if they are to maintain the capacity to respond to a crisis.
Here are two of the organizations that played a key role in the saving of Seymour and Skipper. They stand ready to do so again but they need our support. If you want to say thanks or help insure they have the resources to respond the next time one of our dolphins runs into life threatening difficulties, take a minute to make a donation.
A donation in the name of a dolphin lover in your life would make a great Christmas gift this year.