A local bottlenose dolphin mother and her daughter approach the birthing season together
This is Sydney and Jing Jing, two dolphins that have lived their entire lives in the waters of Naples, Marco Island and Goodland. Both adult females unencumbered by calves, they have spent the past year with each other. Now birthing season has arrived to Southwest Florida and JingJing has given birth again. Sydney may not be far behind.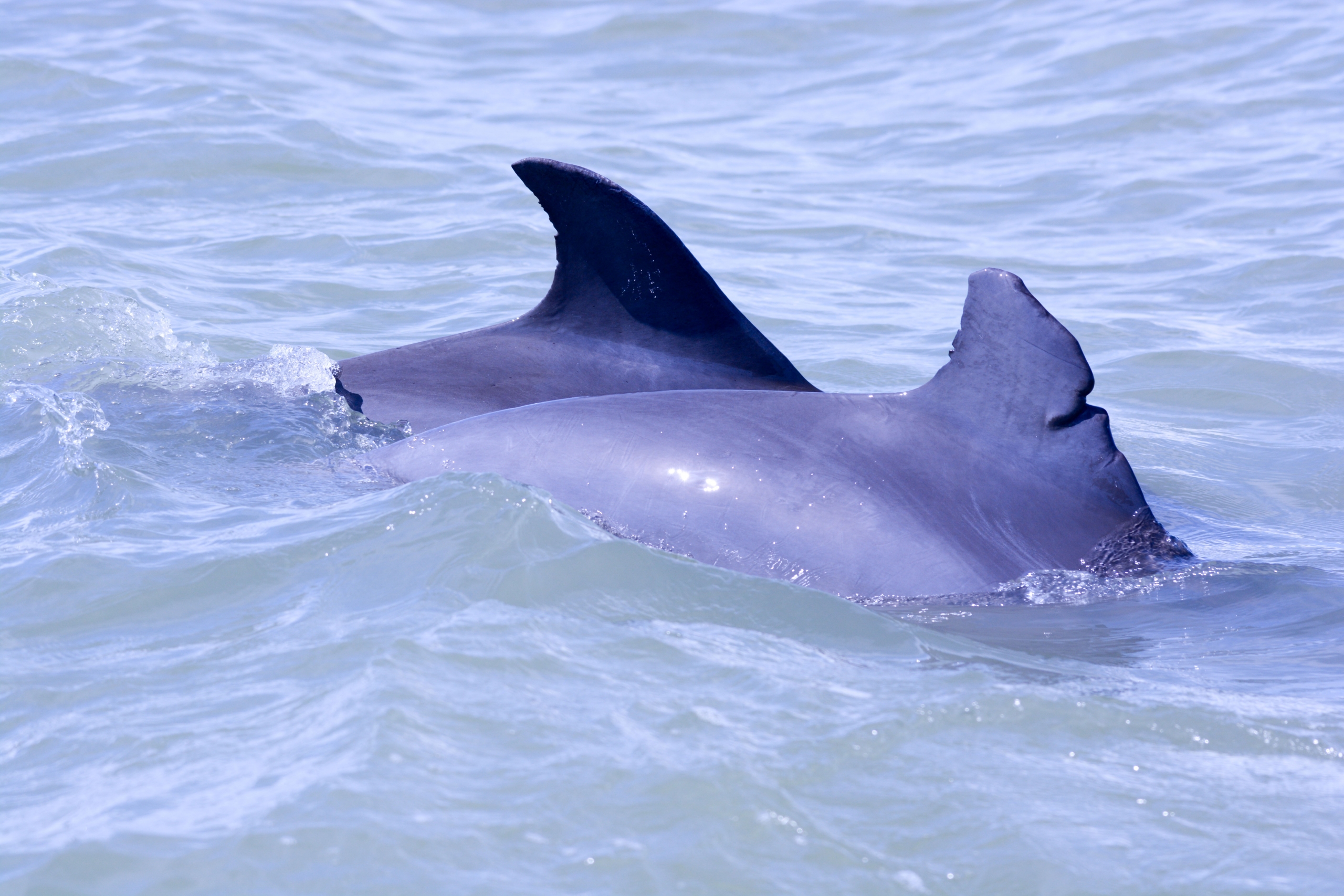 Adult females Sydney and JingJing (foreground)
JingJing, never one to pass up the opportunity to surf in the wake of a boat, has a distinctive fin shaped by boat propellers and fishing line, which she is not above accessorizing.
She is Sydney's daughter but, at nearly twelve years old, it is a long time since she has been a calf. In fact, in 2017, JingJing gave birth herself to a calf we named Jordan.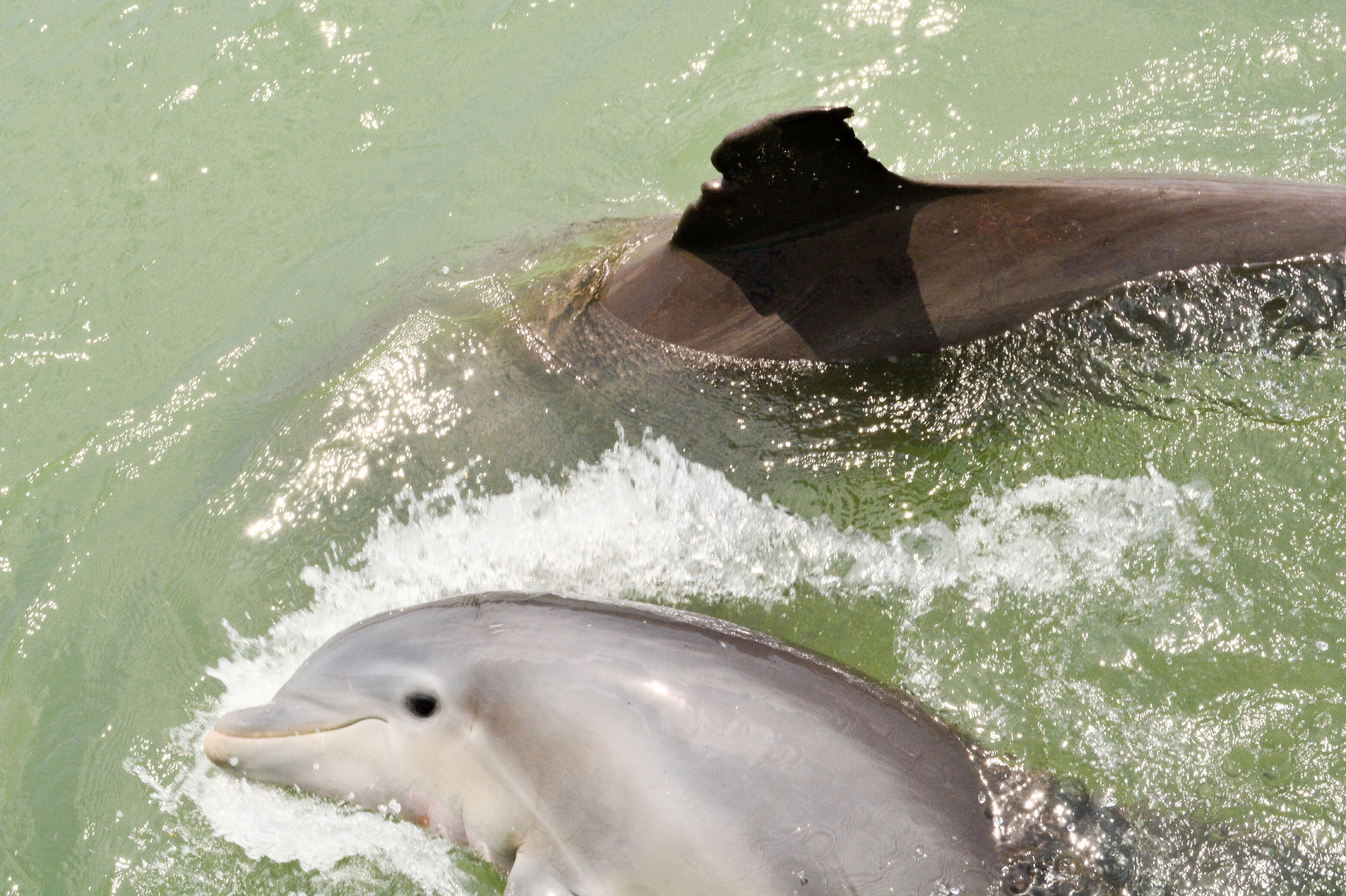 JingJing becomes a mother for the first time in 2017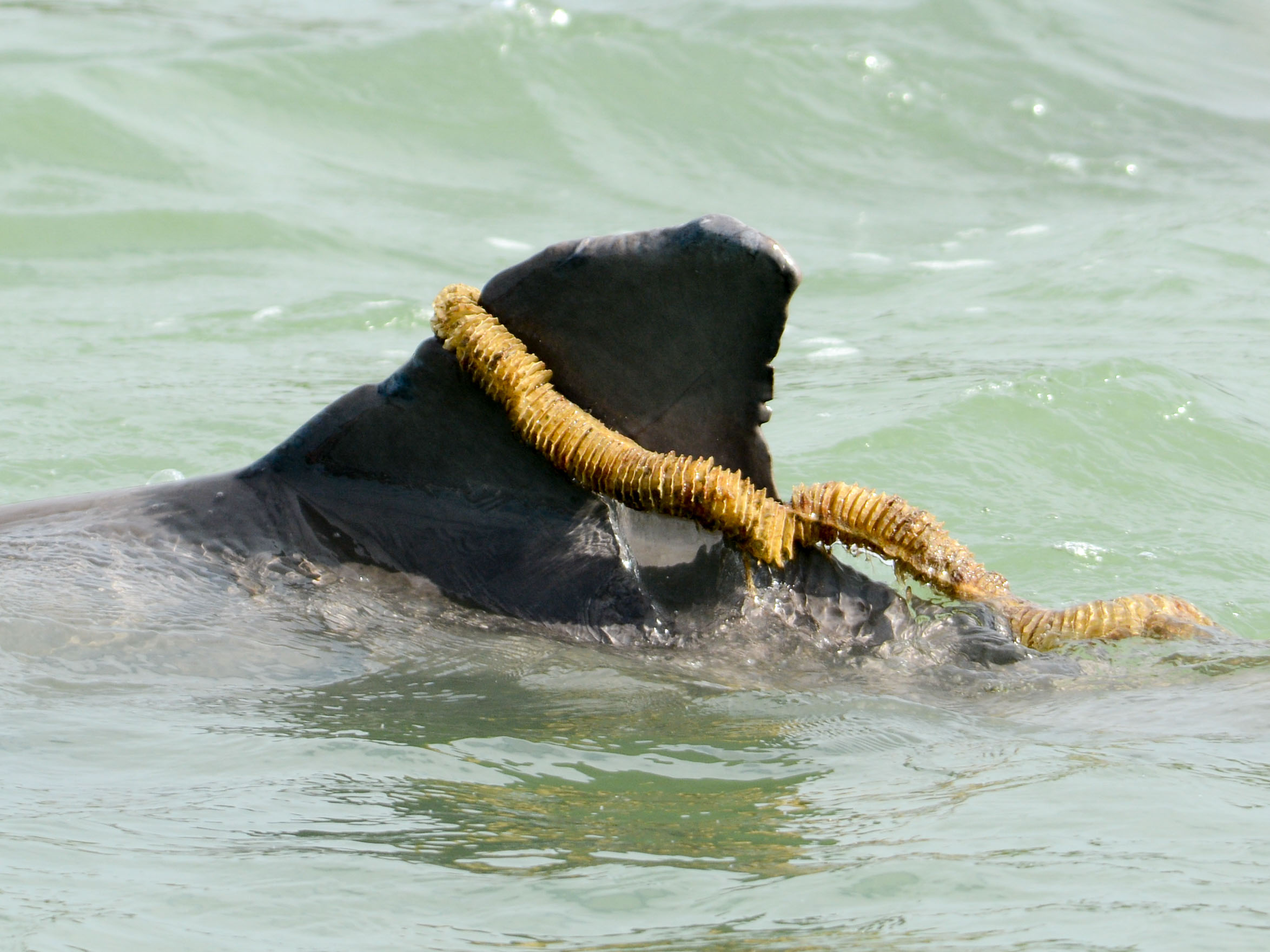 JingJing steps out with a lightning whelk boa – one of those accessories that doesn't go out of fashion.
At the time, Sydney, now a grandmother, was caring for a calf of her own, a dolphin we named Nemo. It was fairly common to see the three generations together in sightings.
JingJing's calf Jordon thrived and is now a sub-adult out on his own. Sydney's calf, Nemo was compromised: something – a boat strike or attack from a shark or another dolphin – who knows – had left her with a distinct dent in her side. She appeared to do well under Sydney's care but could not make the transition to a self-reliant subadult.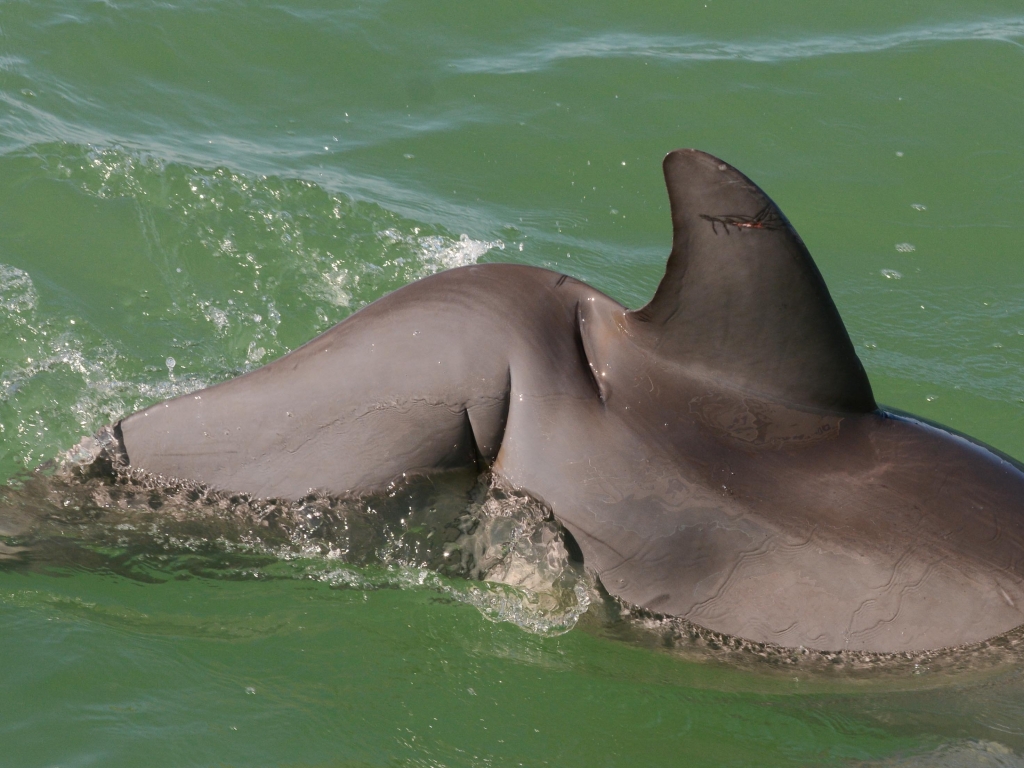 Nemo with her decidedly compromised spine.
2021 found both JingJing and Sydney without calves – and inseparable. During trips with Dolphin Research Tours, we recorded 18 sightings of the two together in 2021 everywhere from Tarpon Bay off Big Marco Pass to Caxambas Pass and Coon Key Pass. Females of similar reproductive status often associate with each other and our suspicion was that both mother and daughter were pregnant and would give birth in September or October. JingJing did not disappoint. On September 17, at 11:00 our colleague at The Dolphin Study, Captain Michael Tateo spotted her in Collier Bay with a new born we named Genji.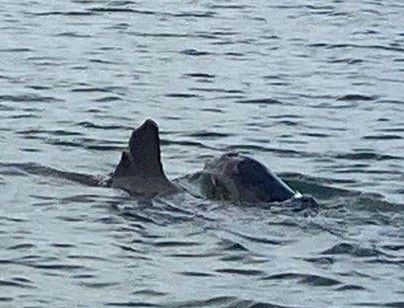 Jingjing with new calf Genji in Collier Bay 9-17-2021
JingJing's is the third birth we have documented for Marco Island's female dolphins this year and hers certainly won't be the last – historically September and October are when the majority of bottlenose dolphin births happen in Southwest Florida.
We will certainly be looking for Sydney to join her daughter in ushering in a new life this season. Besides her, we at Dolphin Research Tours and The Dolphin Study are tracking 50 other adult females resident to the area. 25 of them are candidates for potential births this years.
When is the birthing season for bottlenose dolphins around Marco Island?
Bottlenose dolphin births here begin in August, peak in September and can continue into the winter.
How did The Dolphin Study establish the birthing season for the dolphins of southwest Florida?
Good question. Most of our knowledge about the coastal bottlenose dolphins that inhabit the waters of Florida's Gulf coast comes from scientists at the Sarasota Dolphin Research Program. Their scientists report that most dolphins in Sarasota Bay are born during the late spring to early summer.
Between 2006 and 2019 we documented the births of 34 bottlenose dolphin calves born to 19 female residents of the Marco Island Dolphin Community and discovered that the birthing season in southwest Florida was almost exactly opposite from that which the scientists had established for the community of dolphins around Sarasota.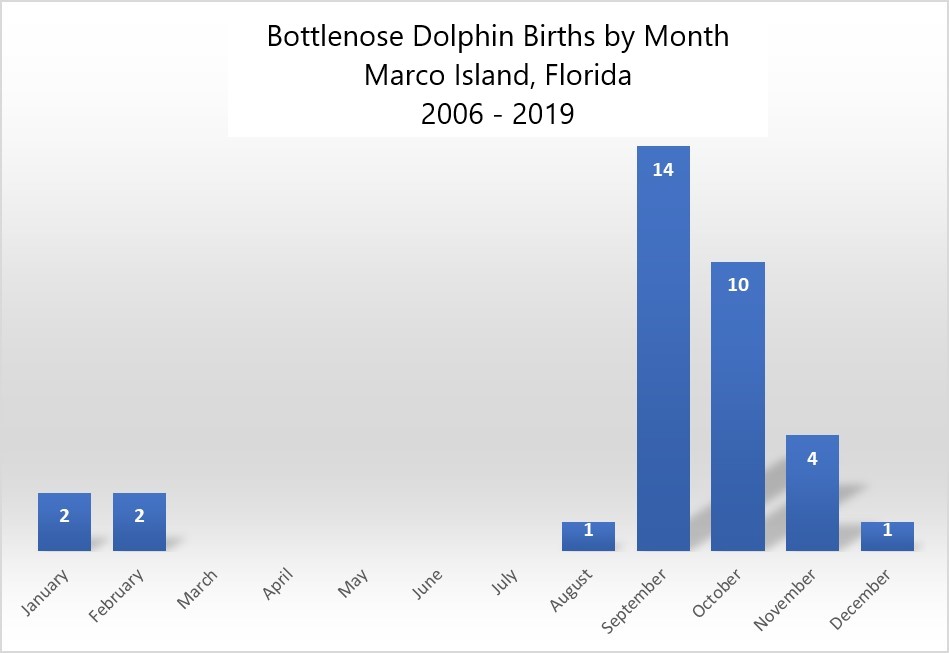 How does The Dolphin Study determine the birthdate for a calf?
First we examine the photo of the calf at first sighting. Recently born calves appear smaller (about three feet long). They tend to be darker in color and often exhibit vertical crease lines or 'fetal fold' marks from their recent confinement in the uterus of the mother.
Adult female Orange with her recently born calf Swoop – August 2018
These features tell us we are dealing with a very young calf – probably less than one month old. The next step is to look at the sighting history of the mother. When was the last time she was sighted without the new calf? For example, on July 24, while on a trip with Dolphin Research Tours we recorded a sighting of an adult female named Cove swimming alone near Caxambas Pass. When we next saw Cove she wasn't alone anymore – she had a tiny calf near her side. In this case, six days separated the two sightings; we split the difference and put the birth date at 7/26/2021.
How can you tell if an adult female is likely to give birth in any given year?
You can't really – but there are clues. If the – If the female is currently caring for a calf that is approaching three years of age, there is a possibility that she could be pregnant. Over the years, the most productive females in the area have given birth every three years. A female will often nurse for up to two years, after which she gets pregnant fairly quickly and then gives birth after a twelve-month gestation period. Consider the reproductive history of a local female named Halfway.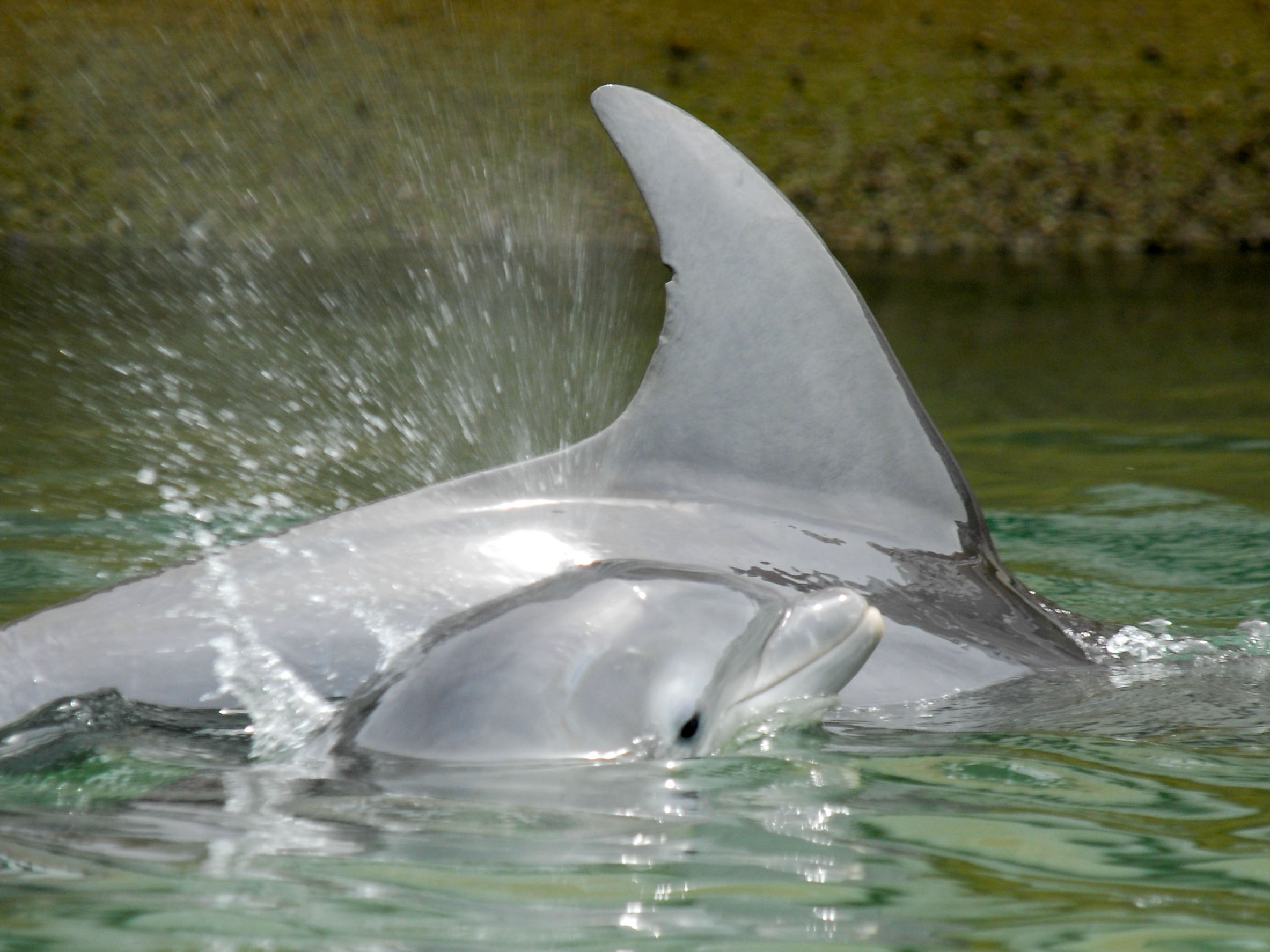 Halfway's Calves
Seymour ?
Simon 10/10/2007
Kaya 9/11/2010
Skipper 9/7/2013
Wyatt 9/22/2016
Benjammer 9/11/2019
Westlie 12/01/2020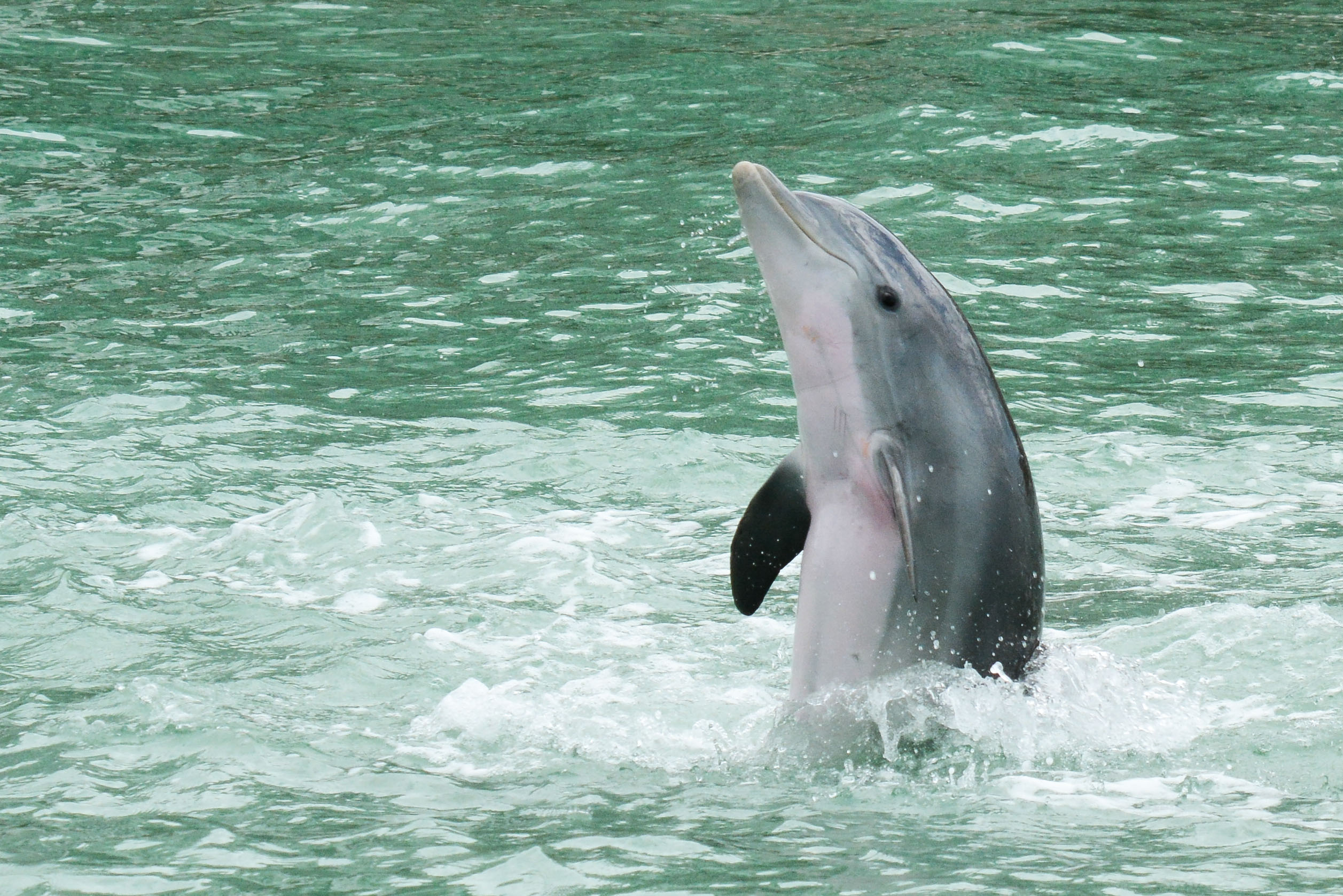 All of Halfway's calves were born almost exactly three years apart. She only deviated from this pattern in 2020. This is because Benjammer, born in 2019, survived only two months. Halfway became pregnant again shortly after his death and gave birth the next year, though later than her usual September births.
Follow The Dolphin Study and Dolphin Research Tours for updates on the Marco Island bottlenose dolphin birthing season. Better yet – join us for a ecotour in the 10,000 Island Wilderness Preserve this birthing season and help us document the next birth.