Some Crazy Looking Dolphins Live around Marco Island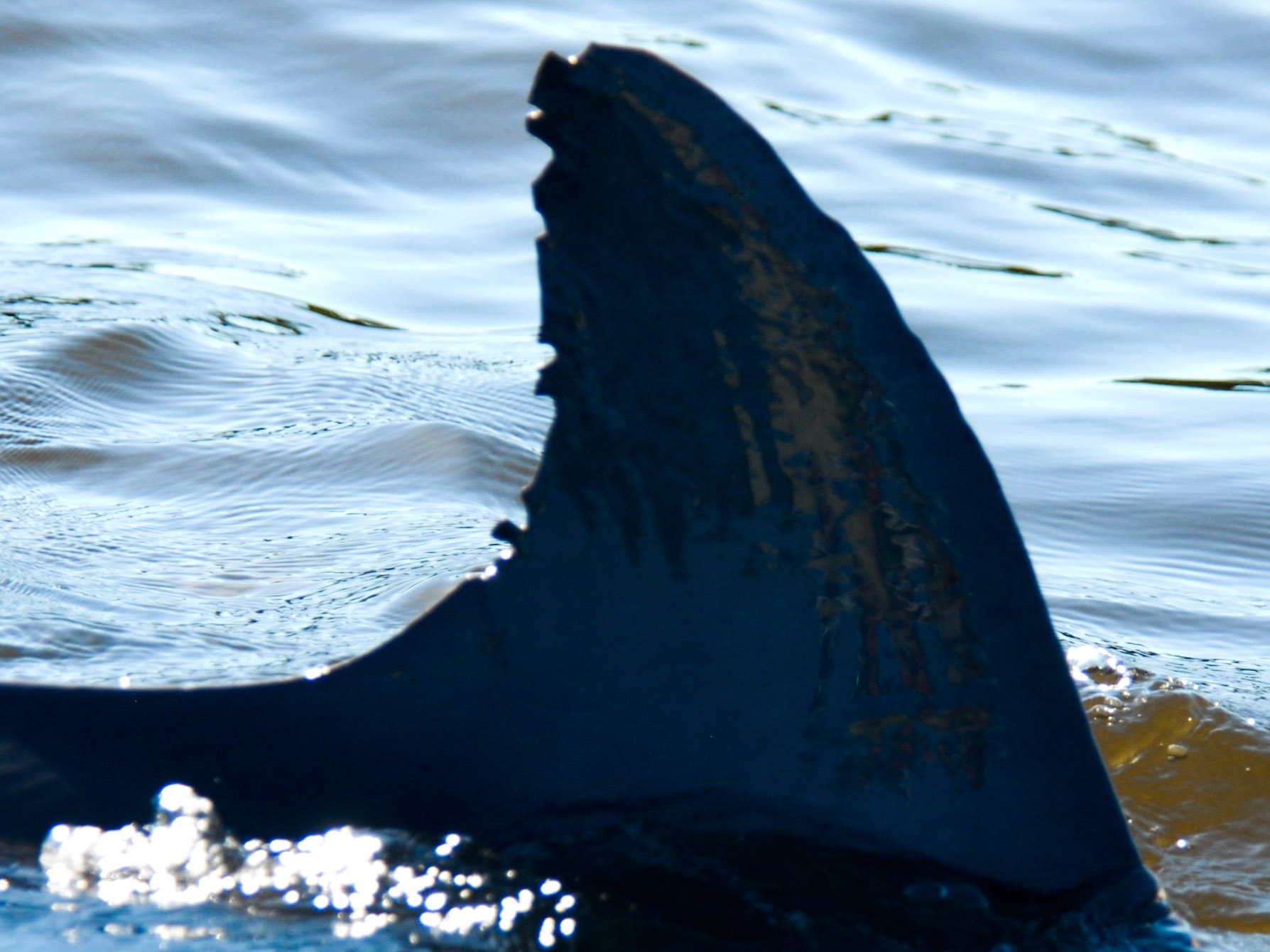 Since we began our photo-identification study of the dolphins that live around Marco Island, Florida I have catalogued the dorsal fin profiles of over 500 different bottlenose dolphins. Many of them look rather like the generic idea of a Dolphin fin…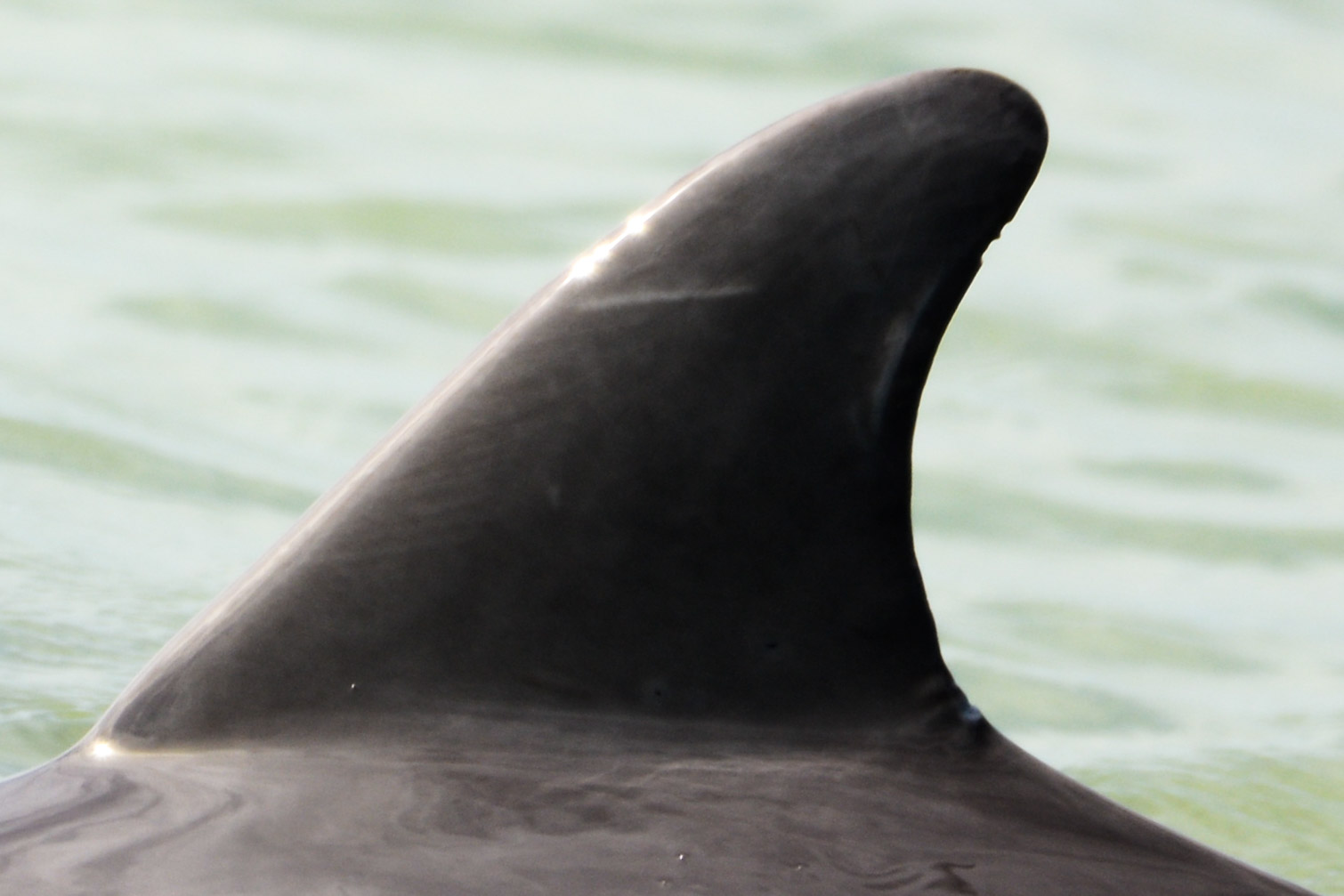 But some of them have been dramatically altered. Here are a few of the more interesting fins from the three areas around Marco Island that we conduct surveys.
the near shore waters of the open gulf near Marco Island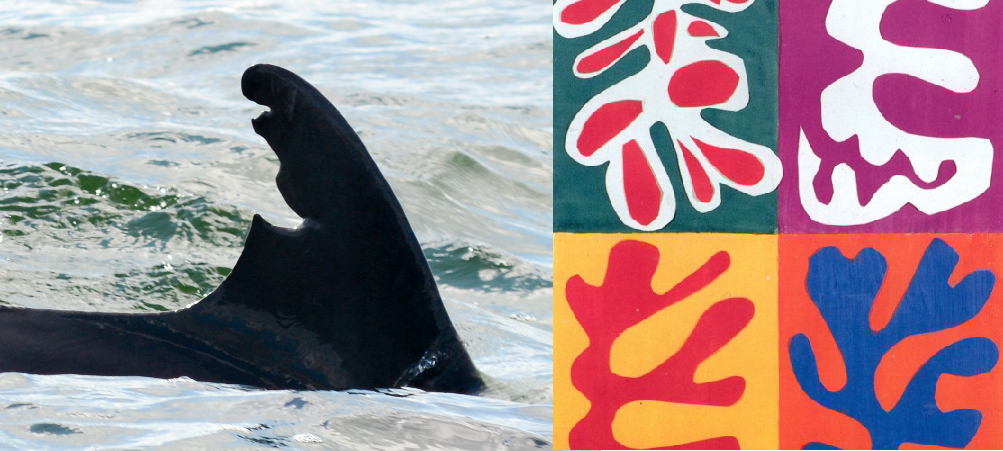 Matisse stays out in the open gulf where I really hope he is a local celebrity in the dolphin community. We've only recorded one sighting of him coming into the Marco River.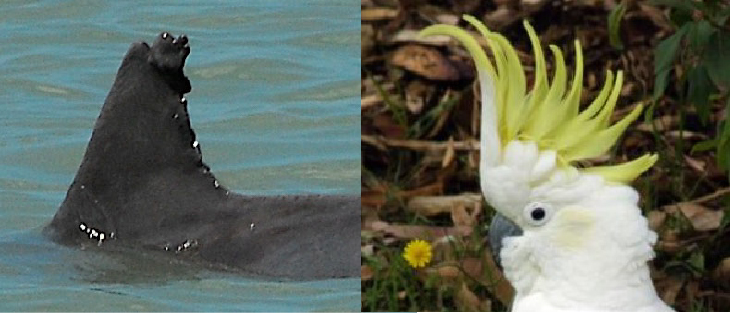 Cockatoo has quite a story.
Like Matisse he sticks to the neat shore waters of the open Gulf of Mexico. I photographed him poking his nose into the Big Marco Pass once in 2006 and 2007. In 2018 I got a picture of him from the Naples Pier.
But, get this: Carolyn Cush is a Research Assistant with the Sarasota Dolphin Research Program. She curates GoMDIS (the Gulf of Mexico Dolphin Identification System) a centralized catalogue for identifying bottlenose dolphins throughout the Gulf of Mexico.
Carolyn told me that in 2005 Cockatoo was spotted by another GoMDIS contributor in Tampa Bay!
That is roughly 120 miles point to point.
In 2010 Cockatoo was rescued near the Naples Pier from a crab trap entanglement. That bought him a shout out in a recently published scientific paper that The Dolphin Study contributed sighting data to – Staying Alive: Long-Term Success of Bottlenose Dolphin Interventions in Southwest Florida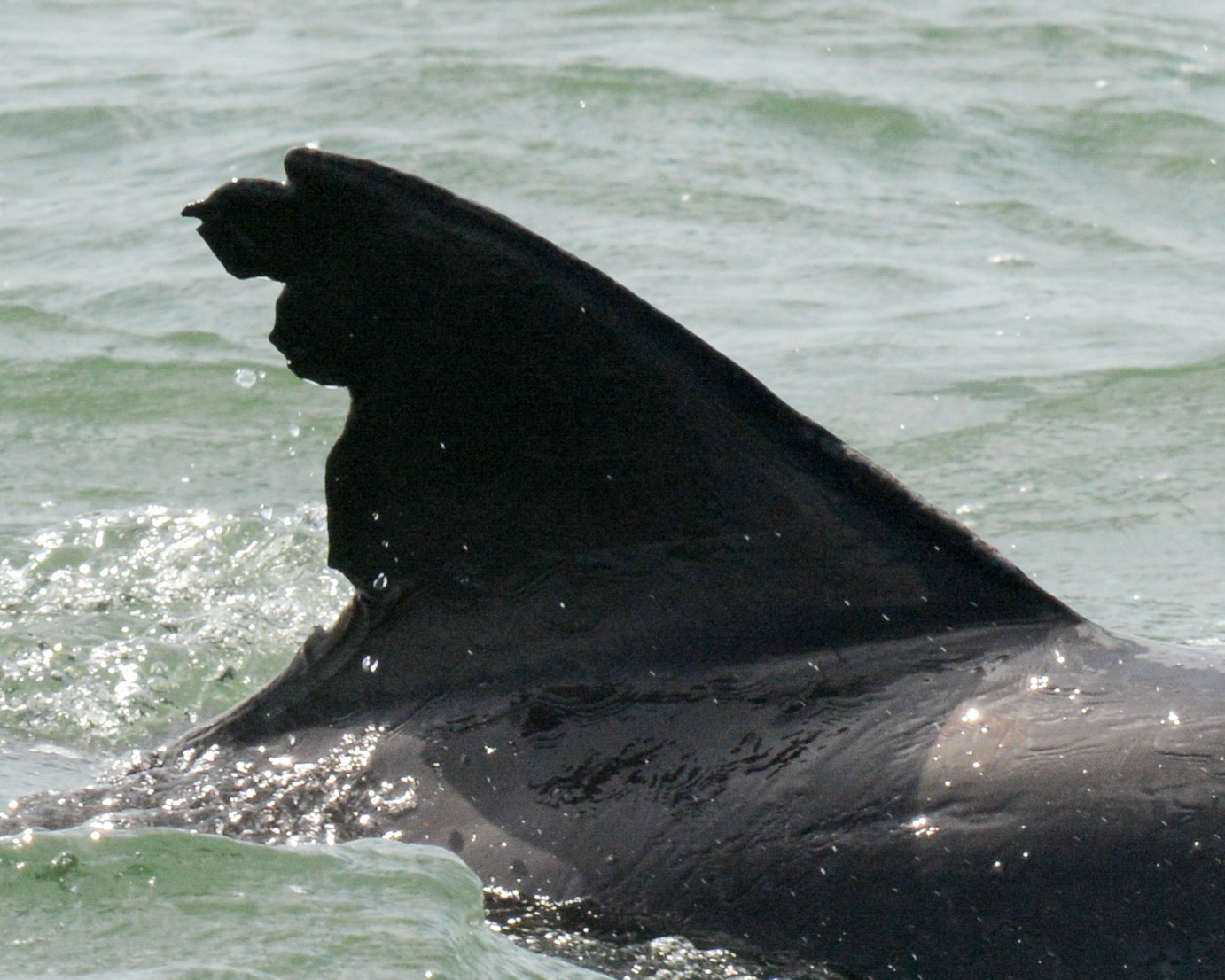 I've only seen this character once – in 2015. He was in the Gulf off of Marco's beach. I hope I run into him again. Me: I was the guy in a ponga with a camera. You: swimming with 12 other dolphins and had a dorsal fin that looked like a little bird's head.
The Big Marco Pass Community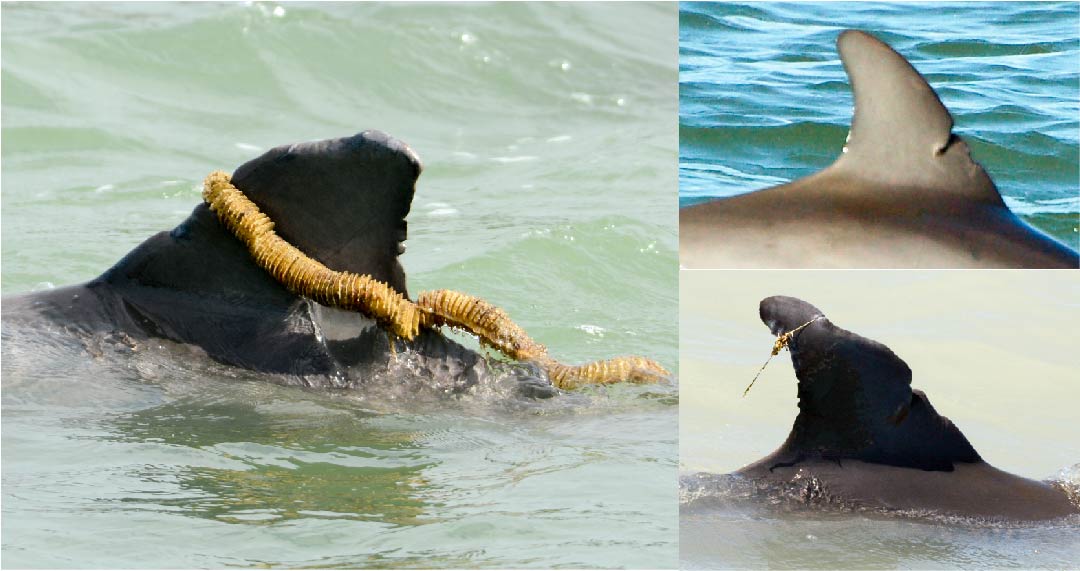 A poster child for the twin dangers of human interaction – boat propellers and monofilament fishing line -Jing Jing accessorizes with an egg case boa.
JingJing's first dorsal injury – a slice from a boat propeller acquired while wake riding – appeared before she was one year old.  Her fin was further disfigured when fishing line sliced off the top portion.
She is a mother now and hopefully has seen the last of this sort of disfigurement.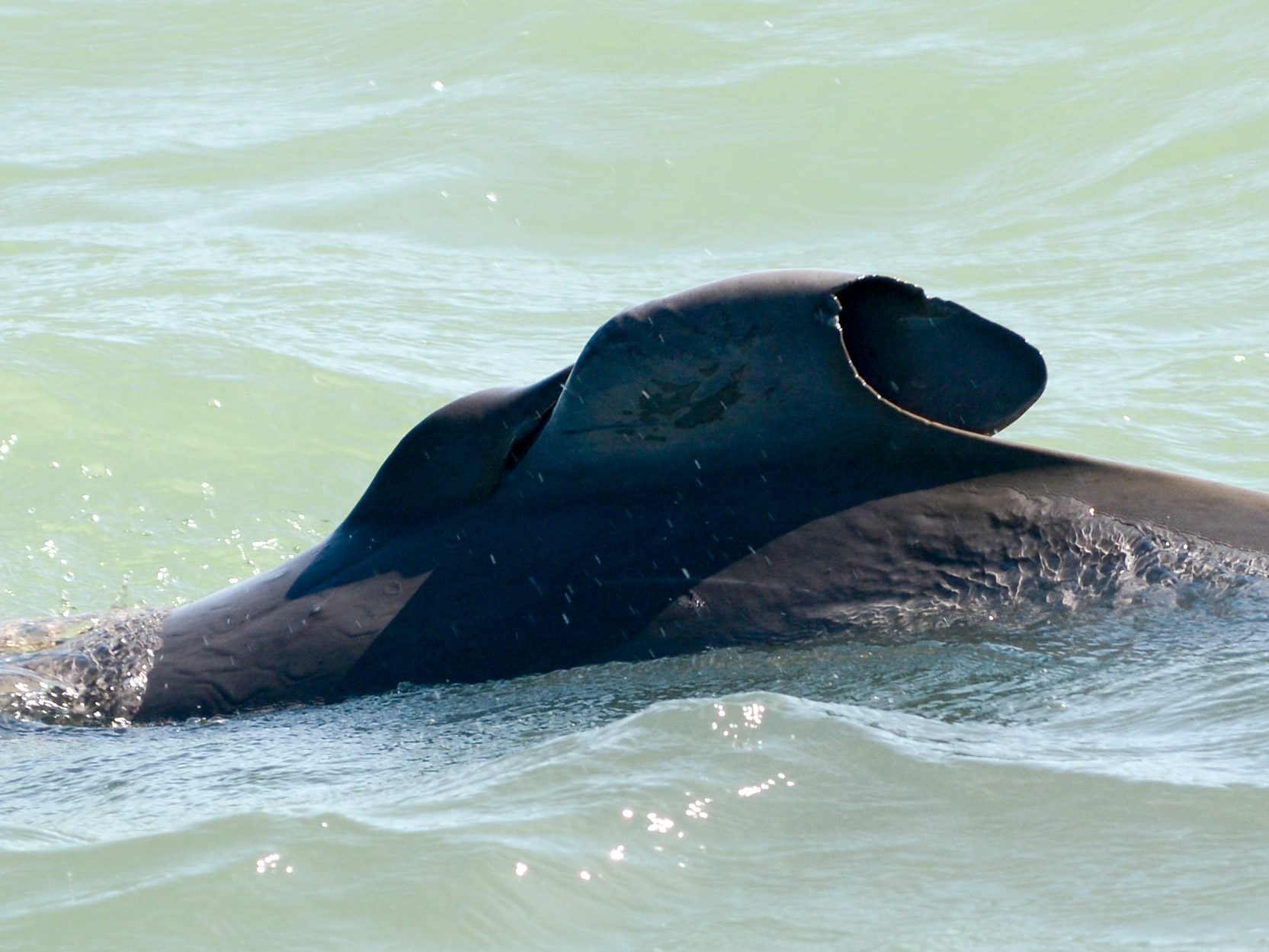 As long as we have known Sparky – first sighting in 2006 – her fin has been rolled over to the right.
The cause was likely a spinning propeller encountered while surfing in a boat's wake.
Fortunately it was only her fin that was damaged – Sparky has been a productive adult female in The Big Marco Pass community giving birth to 6 (!) recorded calves over the years.
Three of her offspring are still alive and Sparky recently became a grandmother.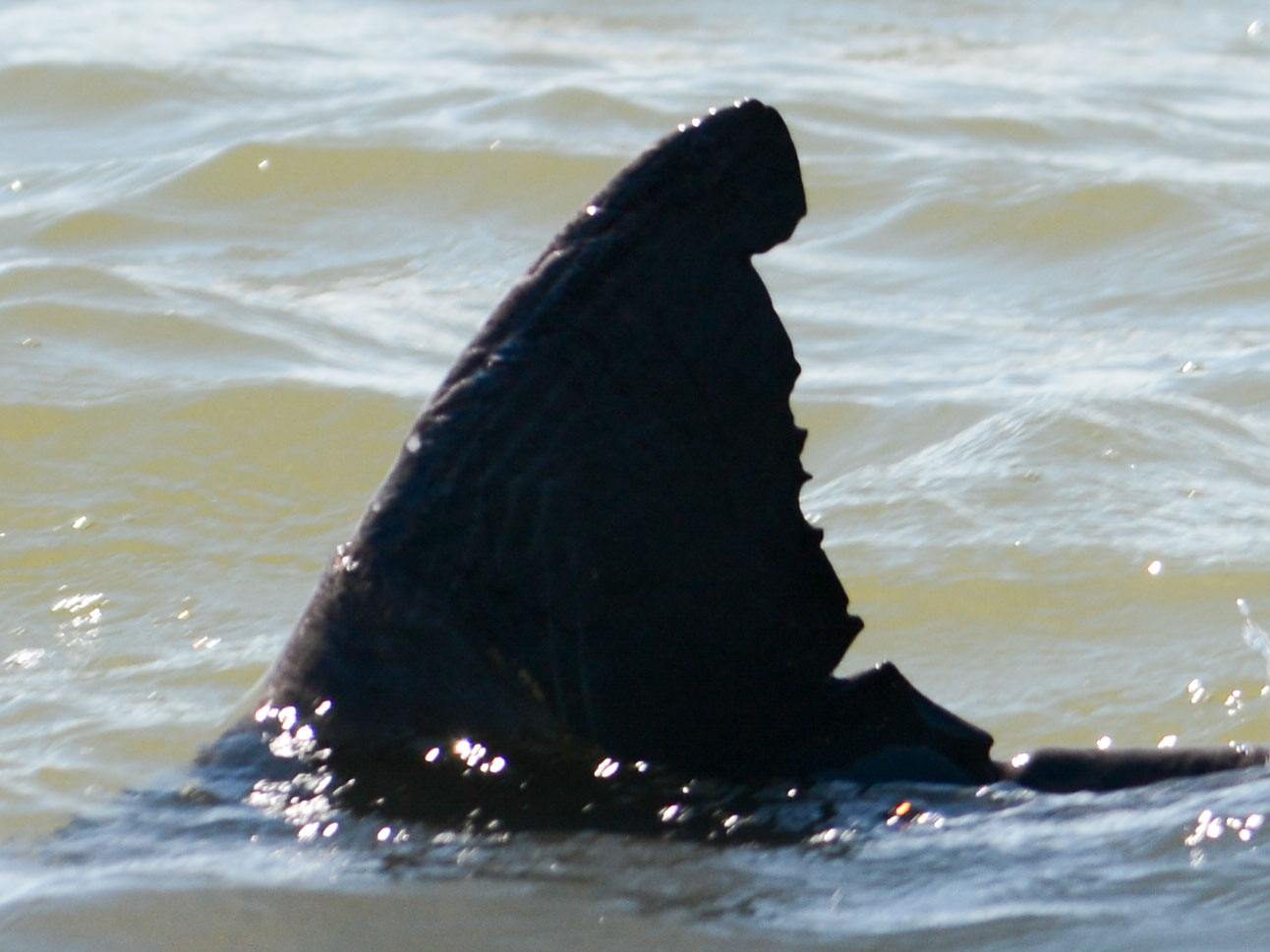 Dolphins can be pretty tough on each other.
This sculpting of the trailing edge of TakeThat's dorsal and the gouges on the leading edge are both the result of bites from other dolphins.
Perhaps the aggression was the result of competition with other males for access to females. I hope it payed off for him.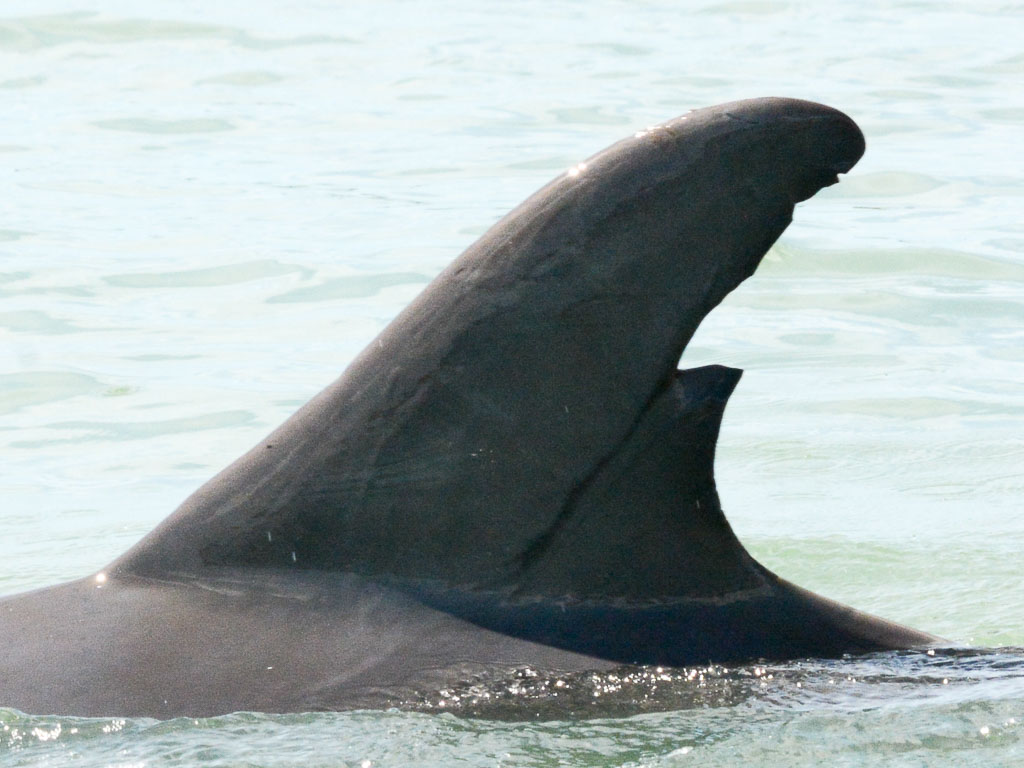 Someone really got a hold of Indiana.
She mostly hangs out around Coon Key Pass in Goodland.
But check out her sighting history in The Dolphin Study database – you'll see that a few of the Area One males enticed her to visit their turf back in October of 2019.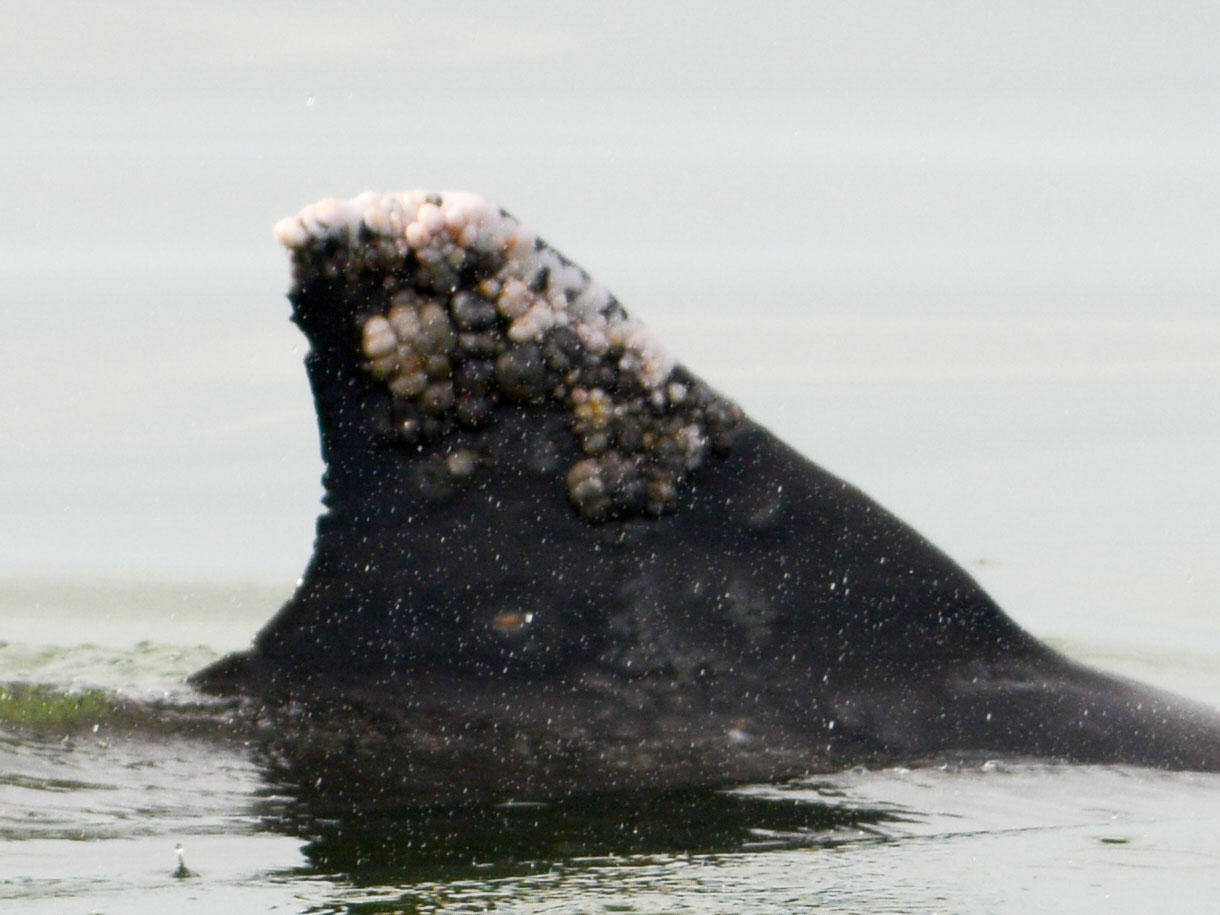 Dude, that's just nasty.
Sometimes a distinctive feature of a fin isn't caused by the bites – playful of aggressive – of other dolphins or from boat propellers.
Lobo M is named for the chronic fungal disease that is visible here – Lobomycosis. His susceptibility to the disease may reflect diminished health due to old age – just speculating here. Lobomycosis occurs in humans as well as dolphins.
These are just a few of the hundreds of unique dorsal fins we have catalogued at The Dolphin Study. Explore our database to see all of the dolphins that live in the vicinity of Marco Island.